Profitability policy restores steel market confidence, off-season epidemic restricts price rebound

EAF Steel: Profitability policy restores steel market confidence, and off-season epidemic restricts price rebound
Stimulated by the "16 financial policies" of the Central Bank and the CBRC to promote the stable development of the real estate market, this week China's construction steel price has picked up and the market transaction has improved slightly. Graphite electrode widely applies in EAF industry, specifications for your reference. However, due to the epidemic situation and rainfall, construction site in some areas was blocked, and the shipment volume of traders was average. As of November 18, China's rebar average price was 3890 yuan, up 69 yuan from last weekend.
This week, China's scrap steel market continued to maintain a rising trend. Because of the recent market slowdown, many plants have been forced to keep raising prices to replenish inventories. The average transaction price was about 80 yuan higher than last week. Scrap deliveries picked up in the second half of the week. In the last two weeks, as scrap steel has become stronger than screw thread steel, EAF plant losses have also increased. Some steel plants in the north have entered the winter break period directly, and the maintenance of steel plants in the southwest has increased. According to statistics, this week, China's 135 steel plants EAF steel capacity utilization rate was 42.03%, 0.89% lower than last week. Electric furnace steel output was 235,700 tons/day, two consecutive weeks of decline.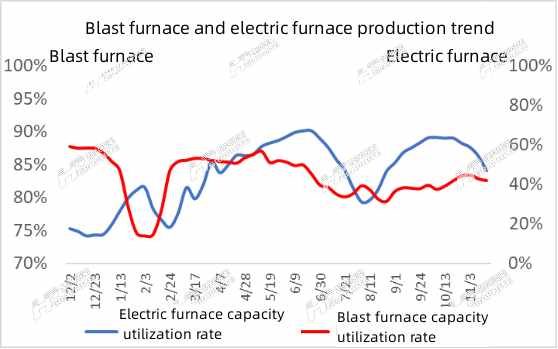 In addition to the favorable real estate policy, Fujian Province and other regions have recently released the new limit of government debt in 2023 in advance, which is significantly higher than last year. In addition, some regions (such as Jiangsu) have made it clear that steel plants cannot exceed production, and the market fundamentals and emotions have been repaired compared with the previous period. China's steel market is expected to continue to consolidate its foundation in the short term, and the driving force for the continuous rise is insufficient. After all, the market lacks enthusiasm for winter stock reserves. Under cost pressure, EAF steel plant output will be basically stable, scrap steel growth will also slow down. Contact us for more reports of EAF steel industry.